Welcome to Rancho Santa Fe
Prestigious historic community with exceptional landscaping.
Rancho Santa Fe is a prestigious historic community known for its affluent residents and exquisite homes. In the 1930s and '40s, Bing Crosby lived in the community and hosted an annual clambake tournament at Rancho Santa Fe Golf Club. Over the past century, Rancho Santa Fe's affluent residents have included other prominent figures, such as Bill Gates and Howard Hughes.

Rancho Santa Fe consists of private gated communities, luxury spas and resorts, and world-class golf courses. The Covenant is Rancho Santa Fe's original master-planned development, featuring grand Spanish Colonial Revival homes on attractively landscaped streets surrounding the beautiful 1920s Beaux-Arts-style Village. Other Rancho Santa Fe communities offer spectacular homes in a range of styles with incredible space and amenities.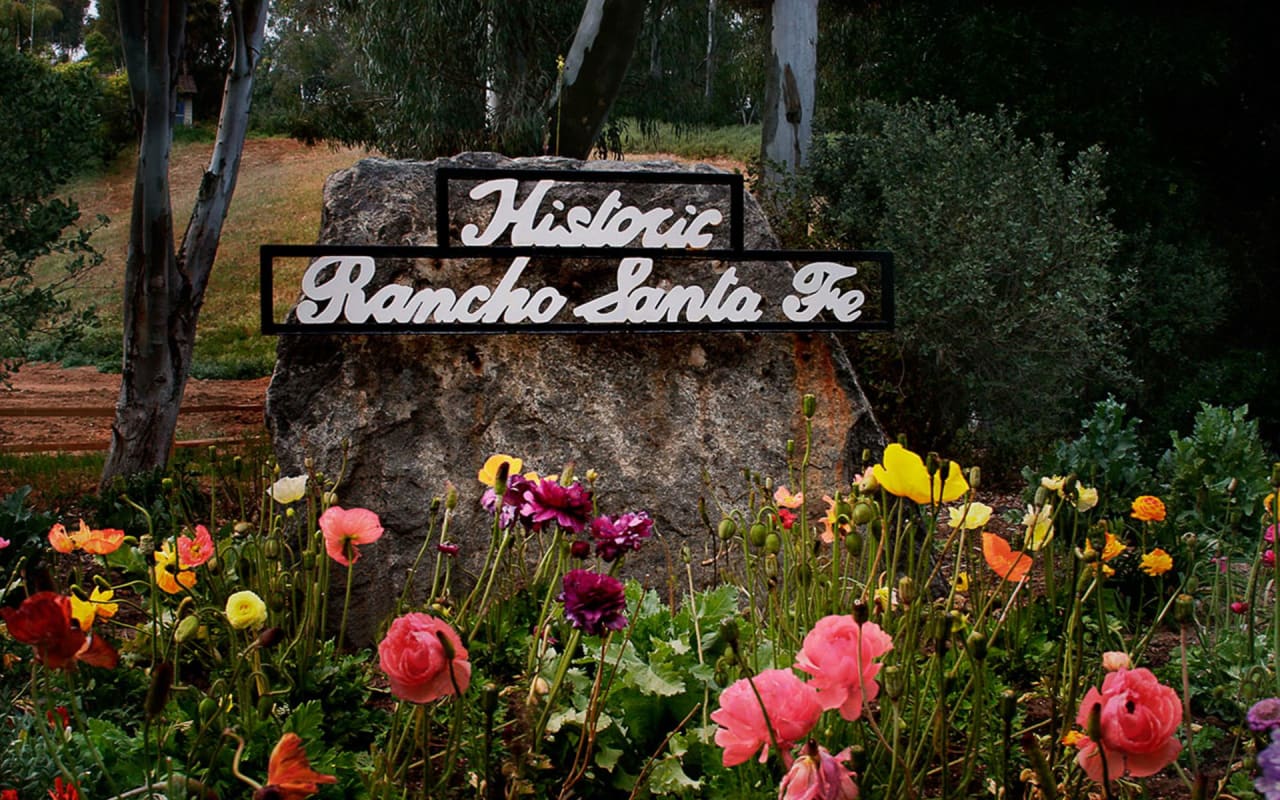 What to Love
Exclusive and private
State-of-the-art amenities
Stunning homes
Excellent country club
People & Lifestyle
The Rancho Santa Fe Country Club is one of the community's cornerstones, and residents often gather there to golf, socialize, dine, and more. In addition to its luxurious amenities, Rancho Santa Fe is also home to several walking and horse trails, making it easy to lead an active, outdoor lifestyle. Rancho Santa Fe is only 30 minutes from the bustling city of San Diego, but with a library, post office, bank, and more in Rancho Santa Fe, you have everything you need without ever having to leave your backyard.
An affluent community, Rancho Santa Fe was formerly ranked as one of the most expensive zip codes in the country. Residents tend to be part of the highest income bracket and take great pride in their exclusive oasis. While the town is primarily residential, it is conveniently located near the best beaches, equestrian centers, boutique shopping, fine dining, and country clubs the North Country has to offer. If you intend to move to the area, be prepared to spend in the millions.
Dining, Entertainment & Shopping
The Inn at Rancho Santa Fe is a romantic 1920s boutique resort and spa in the heart of the beautifully-landscaped Village of Rancho Santa Fe. The Inn offers upscale drinks and dining with seasonal Californian cuisine and craft cocktails at Morada, small-batch spirits and pre-Prohibition cocktails at The Huntsman Whiskey Bar, and unforgettable chef-curated dining experiences for private events. Highlights of the surrounding Village at the Covenant include refined French country dining at Mille Fleurs and sophisticated café fare at Thyme in the Ranch.
Del Rayo Village Shopping Center is a delightful European-style enclave of boutique shopping, beauty salons, and services. Dolce at Del Rayo Village pairs wood-fired farm-to-table Italian cuisine and artisanal cheese with fine wines and happy hour cocktails.
Nearby Solana Beach has several expanded shopping and dining options, including the Del Mar Plaza and Flower Hill Promenade. Many Rancho Santa Fe residents visit the Lomas Santa Fe Plaza for errands or a quick lunch. The shopping center is home to Jersey Mike's, Starbucks, Einstein Bros., Primos Mexican Food & Cantina, and more.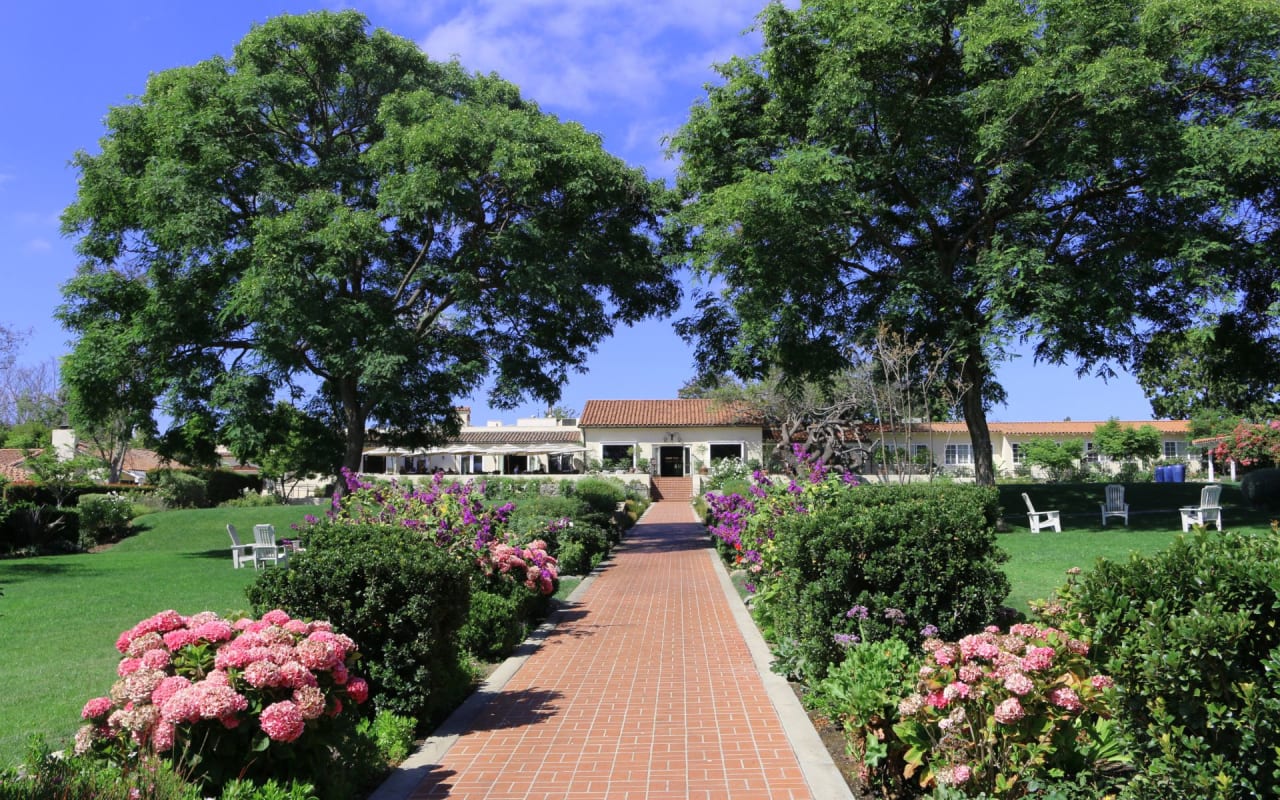 Things to Do
Rancho Santa Fe has lots to see and enjoy. Helen Woodward Animal Center is a rescue facility and a great place to adopt your next pet. Spanning 12 acres, the Animal Center also runs a variety of special programs and events.
The Village of Rancho Santa Fe's attractive 1920s Beaux-Arts architecture makes it a captivating place to explore. The Village is at the center of the Covenant, a luxurious community of spectacular Spanish Colonial and Mediterranean Revival homes. Osuna Ranch predates the development of the Covenant. One of California's oldest historic preservation properties, Osuna Ranch features beautiful grounds and a 25-acre equestrian facility. The Covenant also boasts more than 50 miles of private riding and walking trails, some of which extend to the Rancho Santa Fe Arroyo property. This 68-acre open space features a fishing pond and residential campsites.
Rancho Santa Fe Golf Club has a storied history as the home of Bing Crosby's famous clambake. Members enjoy access to one of America's top 100 walking courses and refined amenities inside the Spanish-inspired Clubhouse. Apart from the golf club, Covenant members have access to the Rancho Santa Fe Tennis Club (featuring 10 hard-surface courts), the Rancho Riding Club, the Rancho Santa Fe Historical Society, and the Rancho Santa Fe Community Center.
Beyond the covenant, you'll find the 2,352-acre Black Mountain Open Space Park and the Black Mountain, along with panoramic views and miles of trails. There are also several other local parks, such as the San Dieguito Park nearby. San Dieguito comprises multiple picnic areas, trails, a gazebo, athletic fields, and more.
Schools
Rancho Santa Fe is zoned in the Rancho Santa Fe School District and San Dieguito Union High School District.
R. Roger Rowe Elementary, K-8
Horizon Prep, Private, PK-12
Diegueno Country School, Private, K-6
The Nativity School, Private, PK-8

Earl Warren Middle School, 7-8
Torrey Pines High School, 9-12