Welcome to Santaluz
Resort-like planned community with outstanding amenities
Santaluz is a private resort-like planned neighborhood with exceptional amenities. Santaluz offers over 1,000 acres of open space behind gates guarded by 24-hour security. The natural landscape inside features deep ravines, riparian forests of mature sycamore trees and California oaks, and more than 25 miles of trails. At the heart of it all is the 11-acre Village Green and a world-class golf course designed by noted architect Rees Jones.
Residents also enjoy access to social activities at the Hacienda, upscale dining spaces, spa services, fitness and tennis facilities, and an attractive clubhouse. The gently rolling landscape features magnificent residences with stunning views over the golf course, foothills, and ocean. Housing options include charming bungalows, colonial estates, rustic farmhouses, acreage ranches, Santa Barbara-style private resorts, and luxurious custom-builds.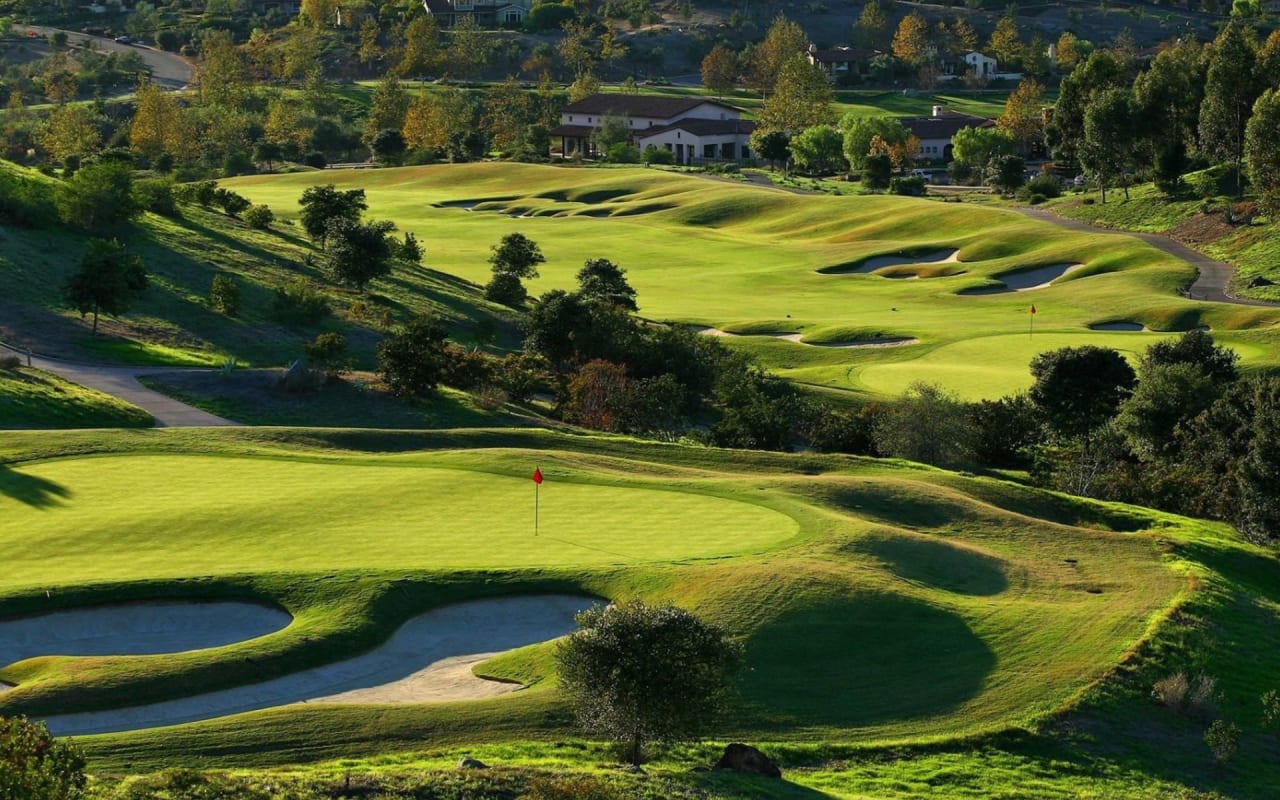 What to Love
Luxurious amenities

Stunning and diverse nature

Panoramic views

Privacy
People & Lifestyle
Because of its small population, Santaluz has a tight-knit community feel. Residents range from young professionals to families to retirees, and all get along to form this special neighborhood. Santaluz is also conveniently located less than half an hour from larger communities like Del Mar, La Jolla, and downtown San Diego, meaning that residents can easily access those areas if they want to branch out.
Santaluz is a newer community, meaning it has a contemporary flair with top-of-the-line amenities. Golfing is at the heart of life here, and residents can often be found out on the green practicing their putt.

Santaluz is considered a residential paradise for numerous reasons, one of which is that the uniquely designed lots give residents free rein for how they want to spend their time. Backyards are designed to provide you with privacy if you wish to avoid other people, while those who would like to get out and stretch their legs are encouraged to traverse the 25 miles of trails meandering through the creeks, hillsides, and valleys that form Santaluz. The best part is,


residents can do all of this knowing there are guards at the gates at all hours of the day. Dog owners can also relax with their furry friends at the local dog park, a relatively new addition to the master-planned community.
Families love Santaluz because of its proximity to award-winning schools and incredible array of family-friendly activities every day. From ladies luncheons to toddler playgroups, there's so much to do for people of all ages! Apart from the regular programs and services, residents are treated to spectacular seasonal events, including the Spring Fling, the Summer Celebration, the Harvest Festival, and the Winter Holiday Celebration.
Dining, Entertainment & Shopping
Santaluz residents enjoy access to several exquisite dining spaces. The Bistro at the Hacienda serves lunch and dinner specialties such as fresh wraps and sandwiches, rotisserie chicken, and oven-baked pizza. Relaxed meals can be enjoyed in the Clubhouse Dining Room, the Tavern and Grill Room, the Men's Grill, and the Ladies Lounge Room. The most formal of Santaluz's dining areas is the Clubhouse's intimate Vineyard Room. The Vineyard Room offers mesmerizing sunset rooms and is the best choice for a romantic meal. The Clubhouse also offers private dining for up to 16 guests at the Library.
Things to Do
The Santaluz Golf Course spans 300 acres with championship play featuring a variety of memorable signature holes. Noted architect Rees Jones designed the course to accentuate the beautiful natural setting and provide stunning panoramic views over the surrounding scenery.
The gorgeous open space around Santaluz features trails such as the Santaluz Loop. This popular mountain biking trail offers sprawling views along its route from the base of Black Mountain to Penasquitos Canyon. Lake Hodges is also connected to Santaluz via trails, making it easy to enjoy the lake, open space, and barbecue and picnic areas.
As briefly mentioned above, Santaluz regularly sponsors fun events and hosts various clubs and groups for those who want to meet others with similar hobbies and passions. Among the clubs that meet regularly is the Dinner Club, Bridge Club, Ladies Book Club, Indian Princesses, Santaluz Babies, Toddler Play Groups, and Mahjong and Canasta.
For events, there is the signature Santaluz Summer Celebration and Fireworks Spectacular. Each summer, this event gathers more than 6,500 residents and their guests to enjoy an evening of dazzling fireworks and delicious food, including gourmet barbecue and ice cream! In the fall, Santaluz hosts a harvest festival that features horse-drawn hayrides, children's games, beer and wine tasting, a pie bake-off, and a chili cook-off!
Then you can bring your kids to meet and get a photograph with Santa Claus at the Children's Winter Holiday Celebration. Come spring, there's the Spring Fling & Dash on the Grass to celebrate the end of the winter months. Peter Rabbit comes to visit and invites kids to join him for cupcake decorating, crafts, and more!
Schools
Santaluz is zoned in the Poway Unified School District. Highlights include:
Maranatha Christian Schools, Private, Christian, PK-12