1. GoodOnYa
GoodOnYa has been serving organic food and drink since 2001. Owner and former Olympian Kris Fillat-Buchanan has made it her mission to provide customers with the healthiest menu in Southern California. After her own health struggles, Fillat-Buchanan was encouraged to help others nourish their bodies through healthy eating.
The dishes offered at GoodOnYa in Encinitas are non-GMO, organic, and flexible for most dietary restrictions. They have a wide selection of beverages, including coffee, tea, and herbal root beer made from Chaga and Rehmannia root. GoodOnYa is also great place to bring your whole family. They offer a kids' menu with sustainable coloring materials using paper that can be planted at home to grow wildflowers. Once you and your little ones have grown your flowers, you can bring them back to GoodOnYa and exchange them for a free cookie.

If you're looking for a date spot or a place to relax, make a reservation at GoodOnYa's (21+) Wine Lounge. Their drink menu includes a varied selection of biodynamic wine, local beer, and hard kombucha. GoodOnYa's Wine Lounge boasts a cozy yet airy environment and a diverse menu of small organic bites. You can also become a member of the GoodOnYa wine club and receive wine pairing tips from the chef, entry to exclusive events, first access to the wine lounge, free glasses of wine in the evening (after 4:00 p.m.). If you want to take a healthy treat home, check out GoodOnYa's variety of products available for purchase, including GoodOnYa Hydrate (their rendition of a natural sports drink), supplements, organic coffee, and more.
2. The Lotus Café and Juice Bar
Carl Wright and his wife opened The Lotus Café in 2009 after Carl was inspired by his trips to India and Nepal. He'd been intrigued by the health and environmental benefits of a vegetarian lifestyle and wanted to open a place where people could gather for a meal regardless of dietary restrictions. Patrons of this Encinitas restaurant can expect to be served fresh, healthy, and natural food options at affordable prices. The Lotus Café curates a relaxed and casual environment for its customers. You can order at the counter at your leisure and sit back and relax for table service.

The Lotus Café has breakfast items, appetizers, entrées, and a full children's menu. Most of these items are vegetarian or vegan, both clearly marked on their menu, but there are some fish, chicken, and turkey options available, with a different fish special every night. The juice bar offers a variety of freshly squeezed shots, fruit smoothies and juices, and milkshakes. The Lotus Café also sells vegan cupcakes baked fresh each morning, homemade soups made daily. Their special is Moonlight Pasta, with the pasta of the day tossed in homemade marinara, Parmesan, pesto, or feta, and served with a salad and garlic bread.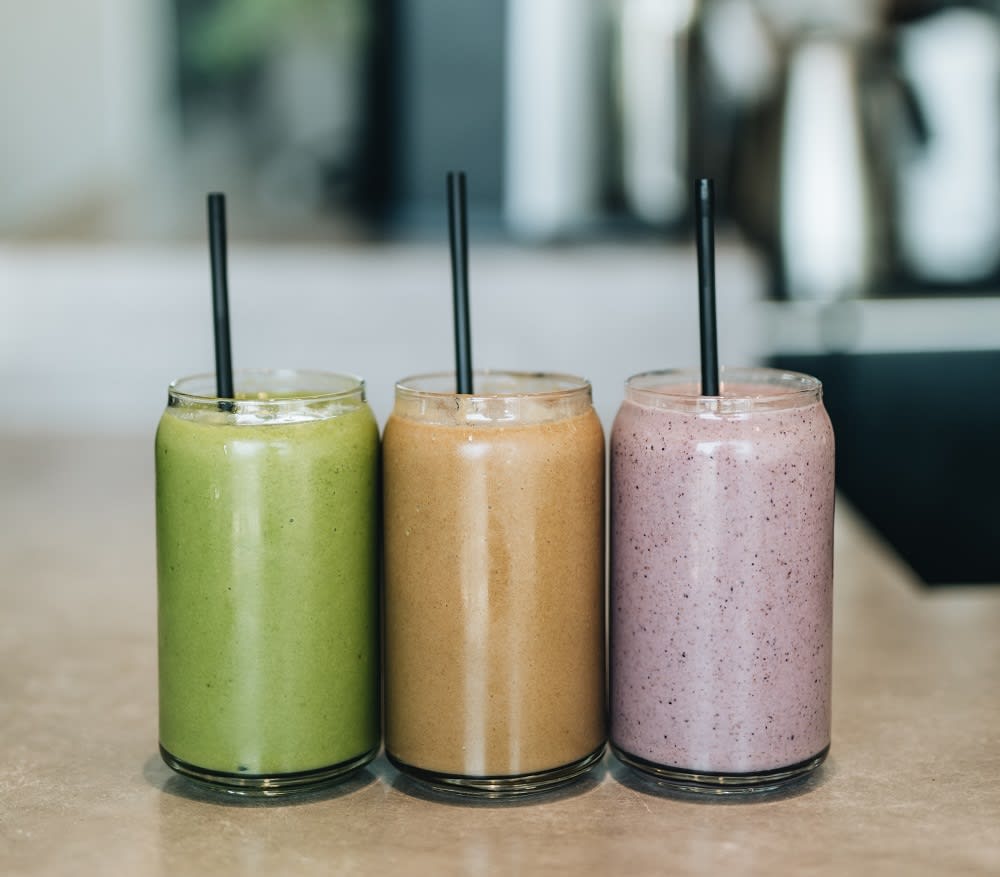 3. Nectarine Grove
At Nectarine Grove in Encinitas, every option on the menu is both delicious and nutritious. All dishes are fresh, organic, 100% gluten-free, locally sourced, and sustainable. GMO's, refined sugars, and processed ingredients are nowhere to be found. Nectarine Grove's toasts, burgers, salads, bowls, pizzas, sides, coffee, and smoothies are amazing and all of their dishes, including meat, dairy, or eggs, come from humanely sourced animals.

When you dine at Nectarine Grove, you aren't just supporting a local business. You are also supporting your community. Nectarine Grove makes monthly donations to organizations feeding, housing, and otherwise supporting North County residents. During the height of the COVID-19 pandemic, Nectarine Grove made monetary donations to the Arbor Foundation, Feeding San Diego, and Color of Change, as well as food donations to Scripps Encinitas to help feed frontline workers. Visit one of their two locations in North County to munch on delicious treats and support your community.
4. Eve
Eve strives to be a place where new flavors, people, and ideas merge to create an atmosphere that's focused on community and family. Feast on bowls like the Aphrodite with herb quinoa, sunflower tzatziki, roasted mushrooms, house-made chickpea falafel, gluten-free pita, and Mediterranean olive mix. Kids eat free at Eve, regardless of when you visit. Also available on their menu are starters, flatbread, burgers, sandwiches, burritos, salads, entrées, açaí bowls, smoothies, and breakfast. Every option available on the menu is 100% vegan.

If you're unable to visit the Encinitas flagship location—which has been in operation since 2016—visit the Oceanside location. GrubHub, UberEats, and Postmates are all available for delivery if you're craving a local kombucha or cold-pressed juice but don't have time to retrieve it in person. You also won't want to miss their monthly events to encourage the community to come out, eat, and get to know one another.
5. Healthy Creations Café
If you're in the mood for an avocado and hummus toast with cucumber and cashew tzatziki, stop by the Healthy Creations Café, open seven days a week on North El Camino Real. Guests can choose to dine inside or outside on their patio. At this Encinitas café, you can eat organic, locally sourced, free-range chicken, wild seafood, and grass-fed beef. Healthy Creations Café is a great spot for a variety of dietary choices and restrictions.

Owner Rhiana Glor and her team have crafted an extensive menu consisting of breakfast and toast options, gourmet or classic sandwiches and wraps, panini, power bowls, salads, superfood açaí bowls, kids plates, smoothies, specialty drinks, organic espresso and tea, kombucha on-tap, kefir soda, and a variety of à la carte options. Grab and go options are available for those who stop by during lunch. The team takes pride in the fact that all gluten-free treats and food options are hand-made daily.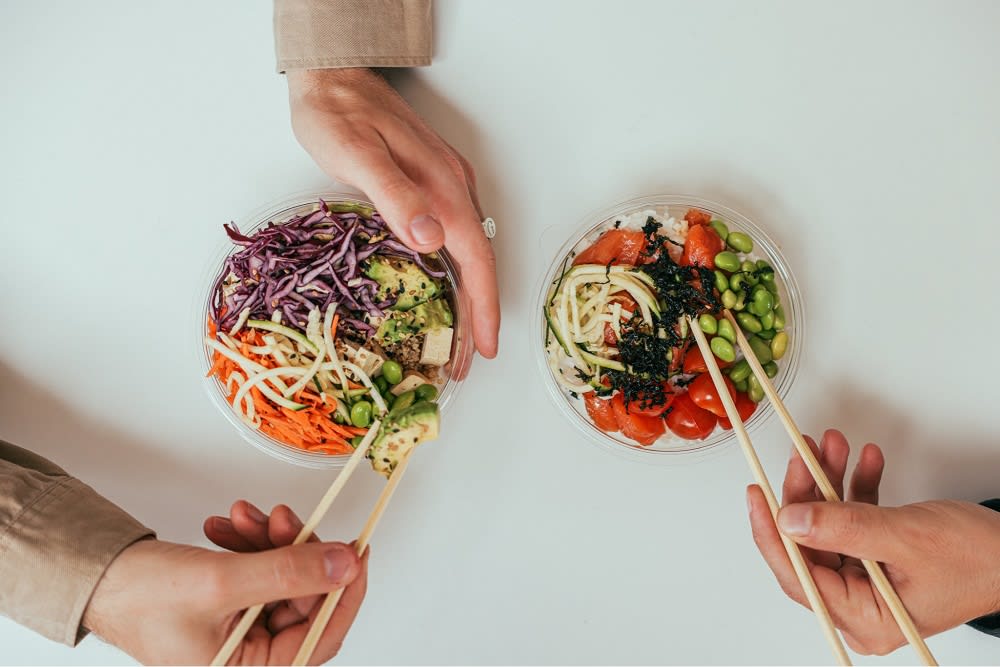 6. Himalayan Kitchen
The Himalayan Kitchen is a newer feature in the Encinitas area. Visitors will get to experience a menu of authentic, home-cooked Nepali, Indian, and Tibetan dishes. Sample an appetizer of vegetable samosa or lamb choila alongside a large variety of vegetarian and non-vegetarian entrée options. Seafood, lamb, and chicken are the main proteins found in the non-vegetarian biryani, tandoori dishes, and other traditional eats.

Encinitas is the perfect locale for those looking to lead an active and healthy lifestyle. If you find yourself wanting to call this coastal beach town home, contact Lisa Harden and Danielle Wright at HardenWright & Associates today for more information on the ins and outs of Encinitas real estate.