Sky Deck, a 26,000-square-foot restaurant destination, is the newest attraction in the Del Mar Highlands Town Center located in Carmel Valley, San Diego. This two-level culinary hub is modeled after El Nacional, a famous state-of-the-art dining destination in Barcelona. Much like El Nacional, Sky Deck is a spacious and upscale building with a 1,000-seat capacity, top-notch restaurants and elevated views. This $120 million project features an indoor-outdoor dining experience with an expansive bar as its centerpiece, surrounded by independently operated restaurants.

From ramen to tacos - here are some of the best new restaurants to try at Sky Deck!


1. Zizikis Street Food
Located on the upper level of the Sky Deck, Zizikis Street Food is a family-owned and operated Greek restaurant that combines over three generations of passed-down family recipes. Since the restaurant was founded in 1994, Zizikis has earned high acclaim from both local and national food and wine critics for steadily producing flavorful and rich Greek cuisine. The inspiration for the name derives from the Greek tangy yogurt sauce, tzatziki sauce, a signature staple used in many Greek dishes. Zizikis is passionate about creating a chef-driven, fine-casual experience for their guests. They are inspired by a rich Greek history and masterfully transform traditional street food using modernist techniques.

In 2019, the owners of the renowned Del Mar Highlands Town Center invited Zizikis to be a part of the upcoming food collective called The Sky Deck which officially opened in March of 2021. Some of the most popular menu items include grass-fed lamb burgers and a breakfast pita. If you're craving a little something sweet, consider ordering the cinnamon sugar pita for dessert. Stop by and experience all the goodness that Zikikis has to offer for yourself.
2. Marufuku Ramen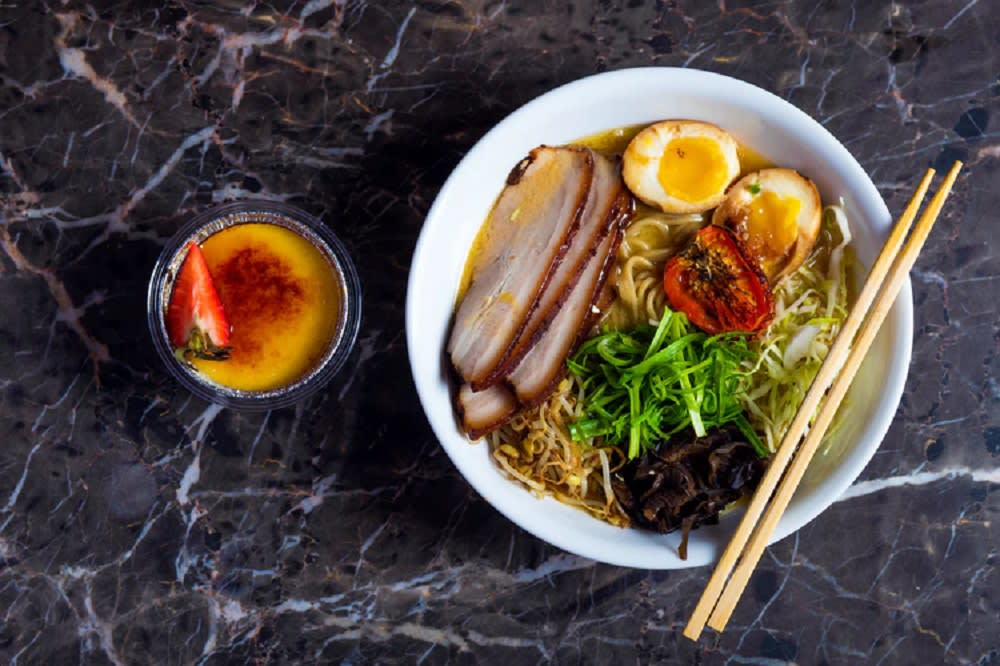 While traveling to Japan might not be in your plans at the moment, you can still experience authentic Japanese ramen at Marufuku. Marafuku has multiple locations in California and Texas, and it's finally made its way to Sky Deck. This chic restaurant is proud to serve authentic hakata-style tonkotsu ramen. The dish features milky, umami-rich broth made by boiling pork bones for long hours, ultra-thin artisanal noodles that match perfectly with the broth, and cha-shu made from specially selected pork. Additional menu items include rich white chicken paitan ramen with cha-shu, along with a mixture of mini rice bowls and izakaya-style appetizers. To complement your meal, consider ordering a premium beer or sake. Marafuku is proud of their mouth-watering dishes as well as their attentive staff members. With so much to offer, it's no wonder there's always a line here. Marafuku's debut in the Sky Deck will bring the most delicious Japanese ramen to Southern California.
3. Kiin Extraordinary Thai
From the owners behind the famous Plumeria Vegetarian comes a new Thai concept: Kiin Extraordinary Thai. This upscale restaurant specializes in serving the best Thai food in Southern California. Family recipes brought over from Thailand make up the heart of the menu, so you can rest assured you'll be getting the most authentic experience possible. The menu features a diverse range of dishes, including both meat and vegetarian options. Kiin is committed to using only sustainably sourced and fresh ingredients to ensure the highest quality of food available. Plus, they also offer rotating seasonal options depending on what is available according to the season.
4. Urbana Mexican Gastronomy
If you're craving some Mexican food, we've got just the place for you! Urbana Mexican Gastronomy is the spot to go for some unforgettable Mexican food. Renowned chef Ernie Alvarado grew up in Mexico and was inspired by the delicious street food that surrounded him. As a result, Urbana Mexican Gastronomy is all about serving farm-fresh, Mexican-inspired plates. Consider trying the gourmet tacos, which are bursting with robust flavors and made with homemade tortillas, or perhaps start off your meal with the fresh ceviche. The menu also features a creative spin on craft cocktails, which feature tequila and mezcal favorites in addition to top-shelf agave spirits. To guarantee a spot, it's always a good idea to book a table in advance!
5. Le Parfait Paris

Looking for something to satisfy your sweet tooth after dinner? If so, head on over to Le Parfait Paris. This quaint shop brings their famous French desserts, macarons, and pastries to Sky Decks. Le Parfait Paris originally opened its first location in 2014 in San Diego's Gaslamp quarter, and today, it is part of Sky Deck. The decadent shop invites people to taste the French "art de vivre" and celebrate its gourmet Parisian heritage. Whether you enjoy sweet or savory treats, you can find them here. To make it even better, Le Parfait Paris makes all of its treats from scratch. To enjoy the full Parisian experience, don't forget to order some coffee to go with your dessert. This coffee and dessert bar is located directly in front of the central cocktail bar.
6. Ambrogio 15
There's little that is as wonderful as a cheesy, delicious slice of pizza. If that's what you're craving, check out Ambrogio 15. Since opening in 2014, Ambrogio has opened two locations in Pacific Beach and Little Italy, and now they're bringing their unique Italian dining experience to Carmel Valley. This restaurant was voted best pizza in San Diego in 2020, and now it's making its way over to the Sky Deck, where you can experience their food for yourself. Ambrogio 15 is known for its Milan-style pizza, complete with paper-thin crust. The secret dough recipe begins with imported organic flour and involves a 48-hour rising process, making it lighter than other pizza varieties. Needless to say, it's a labor of love. In addition to a variety of delicious pizzas, Ambrogio 15 also offers fresh salads made with traditional Italian ingredients. You can also opt for a panini filled with high-quality meat and finest Italian imported cheese in focaccia bread. Finish your meal with some tempting gelato, which is available in a colorful assortment of flavors. With their natural wines and big stone pizza oven, Ambrogio 15 is creating a little piece of Italy in the Sky Deck.
7. J at Sky Deck
The owners of Beeside Balcony are bringing a new upscale restaurant to Sky Deck called J at Sky Deck, a chic New American restaurant that is all about reimagining the dining experience. This is a restaurant where familiar flavors are transformed using modernist techniques to create something extraordinary. Although J focuses on New American cuisine, the dishes have a subtle Mediterranean influence, where simple meets remarkable. The owners have deep roots in the restaurant industry and are bringing a lifetime of experience and passion to J. It's a dining experience you won't want to miss.
8. Rough Draft Brewing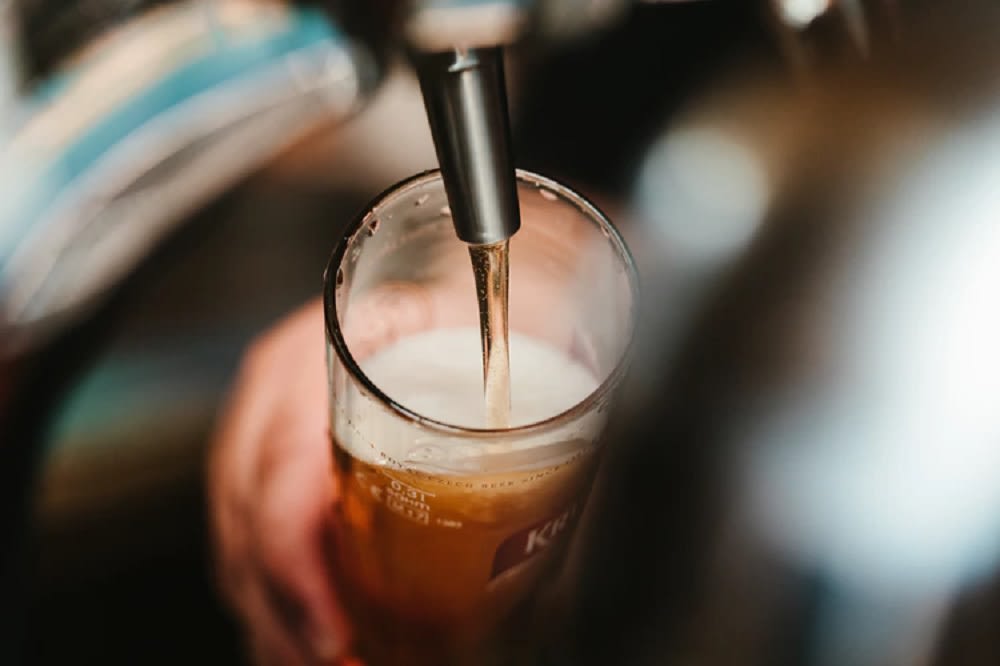 Want to start your evening off with a drink? If so, don't miss out on what Rough Draft Brewing has in store. Rough Draft Brewing is one of three local brands to be a part of the outdoor Brewer's Deck at the Sky Deck. This brewery was started by a UCSD graduate who first grew his passion for brewing from a home kit. Since then, that passion has developed into a successful brewery over the past 20 years. Rough Draft Brewing prides itself on serving great tasting, drink-anywhere brews that are as unique in character as those who drink them. Whether you want to catch up with a friend over a beer or catch the game, this is the perfect space to do so.
9. Glass Box
If you're looking for a dining experience that is truly unlike any other, consider booking a table at Glass Box upon its opening. The Glass Box will bring an extraordinary glass-encased setting within the Sky Deck, providing guests with top-notch seating where they can meet the sushi chefs at their raw bar while they serve yakitori, sushi, and other Asian-inspired dishes. Glass Box is committed to using the finest in-season ingredients available to create their elegant and artistic dishes. The Sky Deck will be the second restaurant location for this family-owned and operated restaurant business.

Interested in exploring homes for sale near the Sky Deck in the Del Mar Highlands Shopping Center?
As an award winning real estate team, Harden Wright & Associates has sold more than 400 homes in Carmel Valley and more than 800 homes throughout San Diego. With 40+ years of experience and extensive knowledge of the Carmel Valley and San Diego real estate markets, our team at Harden Wright Associates is ready to help you find your dream home, vacation home or investment property.
Contact Harden Wright & Associates

*Header Image: San Diego Times